Need to talk to or email us? Click here.
Aki Shaper
The new Aki Shaper 3, is a refined version, by Elise Strauss, of the original Aki Shaper, designed by Akihiro Ohkama. The Aki Shaper 3 is slightly shorter, thinner overall, with the thickness thinning towards the tip (see picture of side view) to enable finer detail lampworking. As with the original, all working edges are radiused. Arrow Springs is proud to offer this tool as an homage to Akihiro.
Graphite dimensions: ¼" x 1" x 3½".
Bea's Marver



Designed by Bea Stoertz, Bea's Marver is used to straighten the ends of beads. To use, slip the mandrel sideways into the appropriate width slot for the mandrel diameter you are using, then bring the bead against the graphite paddle while rotating. Graphite paddle size is 1½" x 2½" (38mm x 64mm). Each of the three different width slots are ½" (13mm) long. Other sizes of paddles available upon request.
Mini Graphite Shaping Tools

SALE
30% OFF

Mini graphite shaping tools in a variety of shapes to perform all kinds of glass manipulations. Note: These tools now have wood handles of similar size and shape.

Frit and Powder Trough

Regularly
$10.95

SALE
$7.95

Frit and Powder Troughs greatly improve the efficiency in coating hot glass, such as beads, by keeping frit and powder in better contact with the item being coated. Many years ago Arrow Springs developed this Frit and Powder Trough, but in a much larger size. Now we are reintroducing it in a new smaller bead scale size. Width across the trough is 1½", length is 4". The bottom of the trough rises over ¾" above the table to give your fingers plenty of working clearance. Stainless steel.

Learn More
Peters Tweezers

Regularly
$9.00

SALE
$6.50

A dual purpose tool to quickly make easy to make loops and holes for pendants, vessels and buttons, as well as locate the eye locations on fish beads.

Learn More

Ceramic Fiber Insulating Blanket

Regularly
$10.00

SALE
$6.95

Place your hot beads between the two layers of ceramic fiber blanket after flame annealing to help minimize thermal shock and reduce the chance of breakage.

Learn More

The model ASC/6 digital ramping controller holds 25 programs in permanent memory for annealing, fusing, Precious Metal Clay, enameling, jewelry wax burnout and ceramics. It is so simple that all you need to do is press a few buttons and it will perform the program and then turn itself off. For your convenience, several programs have already been entered, all of which can be easily changed. If you have special firing programs you regularly use, we will gladly program them into the controller for you. The controller is configurable for either Fahrenheit or Celsius. 15 or 20 Amp, 120 Volt models; and 20, 30 or 50 Amp, 240 volt models available. 30 and 50 Amp, 240 volt models come in a larger housing, not pictured.

The ASC/6 is a "STAND ALONE" temperature controller, which means that it is not attached to an kiln, has its relay self-contained, has an installed thermocouple and a plug and receptacle. All you need to do is plug the controller into a wall outlet, plug your kiln into the controller and insert the thermocouple (temperature sensor) into the kiln.

The Replacement Relay listed is for 120 volt and 240 volt, 15 or 20 amp ASC/3, ASC/5 and ASC/6 Temperature Controllers only. Call for assistance for proper installation and for relays for other models.
Pyrometer

$75.00

The battery operated digital pyrometer is considerably more accurate and much easier to read the old style analog (needle type meter) pyrometers. The Pyro-DFC can read in either Fahrenheit or Centigrade. Operating an annealer or fuser manually with an infinite control switch and an optional pyrometer is an equipment cost savings over operation using an automated temperature controller, but does require monitoring and adjustments to the infinite control switch during your working session and for a short time afterward. Digital pyrometer comes with a 6 foot thermocouple. Battery is included.
Bail Hemostat
Only
$15.95

Strong gripping regular hemostats hold wire loops for making buttons, leaves, flowers and other small glass, metal items and components very well, but by their design, they are awkward to hold and rotate like a mandrel. So, we have mounted a 5/32" mandrel to a 5½" hemostat so you can easily hold and rotate your project on center. 12" overall length.
Cabochon Mandrels - 12 Diameters


All 12 diameters are available with 9" or
12" length handles.

Pictured are 1/2",
5/8", 3/4" and 1".

Our round Cabochon Mandrels come in 12 diameters, from ½" to 1", by 1/16" increments, plus 1¼", 1½" and 2". They feature a thicker 5/32" handle for more a comfortable grip and your choice of a 9" (23cm) or 12" (30cm) length. For regular bead mandrels, where you mostly hold the mandrel level, the 12" length is more popular. Cabochon mandrels are typically used more in an up and down direction, therefor you might prefer the 9" length so it doesn't bump the table and other objects. The larger sizes not only make large cabochons, but also can be used like a painter's palette to make one or more irregular pieces at a time across its face. Millimeter equivalents listed with each size.

Learn More
9" Length

12" Length
$7 Shipping
See IMPORTANT details below or click here.

The JC Metal Sifters and JC Line & Dot Applicators. These tools dispense frit, powdered glass and enamels by shaking, tapping, or for the greatest control, by moving the Coil Actuator. It is incredibly easy to use. With just one hand, you hold the Sifter or Applicator and move the Coil Actuator forward and backward with either your finger or thumb. You easily control the volume of glass or enamel, from a gentle sprinkle to a heavy flow, by the pressure applied and the speed you move the Coil Actuator. The standard screen mesh size for the sifters is 60. This gives good flow, yet also gives you great control for shading. A 60 mesh screen is generally preferred for its ability for shading as well as its ability to efficiently cover a small item, such as a bead, quickly. We also offer all the Sifters in a 40 mesh screen. You may be familiar with this size, as that is what is in the red plastic bodied sifters. Enamellists also like the 40 mesh screen for its ability to cover a large area quickly and thoroughly. The two largest sizes are not pictured. Sifters Size Chart.

Line & Dot Applicator

60 Mesh Sifters

40 Mesh Sifters
Dip-n-Go SLUDGE ULTRA

Dip-n-Go SLUDGE ULTRA mandrel release is hands down the best. Flame driable, strong holding while working, yet easy to release when the bead cools. The best mandrel release for any diameter mandrel or length bead.

Dip-n-Go Sludge Ultra

Dip-n-Go SLUDGE ULTRA mandrel release is hands down the best.
Millefiori Assortment - Sort of

3 Ounces
(85 grams)

Only $8.95

Unlike a regular assortment, we packaged six ½ ounce (14 grams) colors separately. A great bargain at less than $3 per ounce. Quantities limited.
Broach Clip

Only $14.95

For making glass components at the end of straight or looped wires, commonly used in broaches, bangles and pendants. Made from an extra strong stainless steel alligator clip to provide a secure hold and welded to a 3/16" stainless steel tube. Stainless steel doesn't conduct heat well, so the tool stays cool in your hand. Hollow through and through, so any length of wire can be inserted. Overall length 7½". Accepts non rigid wires up to 16 gage (1.3mm).
$7 Shipping


On Orders of $75.00 or more.
Arrow Springs is offering $7.00 USPS and UPS Ground Shipping to anywhere within the contiguous 48 states, with a generous Shipping allowance to everywhere else in the universe,
when you place an order for $75.00 or more

in merchandise (Glass, Hand Tools, Equipment and Supplies) from our website using the shopping cart.
>>>

IMPORTANT!

<<<



The website shopping cart will generate shipping charges as it usually does. We will make shipping charge adjustments as we process your order.
See Shipping Details and Limitations.
Hand and Arm Rest

The Arrow Springs Hand and Arm Rest is everything you expect it should be and more. Starting with a stout chassis, we mounted swept back wings, one on each side. Without the use of tools the wings easily adjust to a custom fit for hours of lampworking enjoyment. The wings adjust up and down so you can properly hold your glass rods and tools in alignment with the flame comfortably. They also rotate so the angle of their generous 2½" (6.3cm) padded width conforms to your forearm or wrist or hand comfortably. Get the idea here, ergonomics and comfort. If you can work comfortably, you can work better and longer and enjoy it more. From tip-to-tip, the wing span is 22" (56cm), yet with their cantilevered design, you can easily reach under them when you need to present the glass or tool from under the flame.
Now for the really cool part: between the wings is a snap-in graphite pad with a very generous 2½" x 3¾" working area. The graphite pad that comes standard is smooth on both sides. Use the second side should you damage the first or carve patterns or molds into it for an infinite variety of possibilities. Custom graphite molds are available upon request. Changing the graphite is literally a snap.
Finally, at the center of the Hand and Arm Rest the chassis adjusts securely around your torch. With four base positions forward to back and height adjustment, The Standard Height Range version perfectly mates with the following torches or other torches of similar size or shape: Minor Burner, Mega Minor Burner, Mini CC, WildCat, HellCat, Little Dragon 7 Bead Burner, Little Dragon 21 Bead Burner, Bullet Burner, Cricket, Bobcat, Lynx and Cheetah. The Tall Height Range version is for taller torches, such as Nortel's Mid Range and two flame torches and most large GTT torches. Read more about which Hand and Arm Rest fits best for your torch. Includes 4" C-clamp to secure torch and Hand and Arm Rest to your work table. Torch not included.
2.5mm Threaded Insert Mandrels for Jewelry
Inserts and #8-32 Threaded Insert Mandrels for Glass Knobs and Bottle Stoppers


Inserts for making glass knobs for cupboard doors, drawers, boxes and bottle stoppers using #8-32 screw threads. These ¼" (6.35mm) outside diameter, steel inserts come in two lengths. ¾" (19mm) length and ½" (12.7mm) length. Inserts have a hole in only one end and are threaded to accept the included, standard 1" (25.4mm) long, #8-32 screw. Simply screw an insert onto the 12" (30cm) long stainless steel Insert Mandrel and apply molten glass to the insert. After you have made your beautiful knob or stopper, anneal it well.
Hint: Optional - To prevent eventual corrosion between the Insert and the Insert Mandrel and to make the insert easier to remove from the mandrel, apply a very small amount of anti-seize compound to the threads. Anti-seize is available at all auto parts stores. It it typically used on the threads of spark plugs for the same reason. See our Graphite Button and Knob Mold.

Also available here are 2.5mm threaded Insert Mandrels for 2.5mm threaded jewelry inserts. The overall length is 8". Inserts are not available from us at this time.
Oxygen Concentrator/Generator Coupler
Allows you to connect multiple oxygen concentrators (also known as oxygen generators) to a single oxygen hose for your torch for higher performance.
Pictured is the Double for connecting 2 Oxygen Concentrator/Generators.
Mini Leaf Mashers



Our new Mini Leaf Mashing Tweezers make realistic miniature leaves for many applications. Very popular right now are 3D multi-component sculptures and brooches. Small leaves, flowers and whimsical lampworked components are created at the end of flexible wire. These parts are then wired together to a central point to create some of the most incredible 3D lampworked art. Additional uses include leaf dangles on jewelry and components that are flame attached to larger pieces. The vein pattern is hand cut on each tweezers for a realistic, natural look. 7" long.
Bead and Mandrel Rack

8"
Only $40.00

12"
Only $45.00

This Deluxe Bead and Mandrel Rack is the ultimate annealer accessory. Bigger, better, and much tougher than the original mandrel rest while giving you up to twice as much mandrel capacity. Properly placing your beads in the annealer is a great way to avoid denting or the sticking of your beads. With a stable base and 2¾" height, the rack safely suspends all your beads, preventing them from touching each other or the annealer and becoming damaged. Use the front tier to rest your mandrel on, or choose the back tier, with its larger holes, to insert the tip of your mandrel in. Choose the size that best fits your annealer, 8" or 12" width. Depth measures 2½" between the perforated panels and 2½ behind the back panel for stability. Need it customized for your annealer or special application? No Problem, just ask.
ASK 104 Clear Clearance



Sale
$8.00
Per Pound

As a clear, it is absolutely wonderful; bright, easy flow, doesn't turn silver yellow… the list of attributes goes on and on, but stops at being 100% compatible with all COE 104 glasses. Used by itself, it can't be beat. Makes great ornaments and sculptures. 8mm diameter.
Casino Glass Clearance

Sale
$8.00
Per Pound

These 1½" diameter, 2mm wall thickness tubes of Clear 104 COE glass were originally a casino chandelier. Now they're ready to become whatever you transform them into - Ornaments, vessels and more!.
Quartz Fuming Tubes
Only
$3.50
or
$4.50

Quartz tubing makes the ideal material to hold Fine Silver or 24 Karat Gold for fuming glass. Quartz, with its low COE of 8, is extremely shock resistant and requires an immense amount of heat to melt, thereby giving you secure control of the molten metal during the fuming process when it is placed in a small depression. 11 mm OD, 8 mm ID, 8" (20 cm) long.
To use the Plain Quartz Tubing for fuming, heat up a spot near one end until white hot. Then push a slight depression into the side of the tube with the tip of tweezers. The heating can be accomplished using a beadmaking size torch turned up to its maximum setting if you are using bottled oxygen. If you are using an Oxygen Concentrator/Generator the flame will not likely be hot enough. Purchase the Quartz Tubing with the Depression already in it. Caution: always point the end of any tubing downstream to the flame to prevent the flame from entering the tubing and burning your hand.
50 Frit Mixes!
Click Here to see all the new
Dazzling frit mixes for COE 96 and 104.


...and 26 more


BellaDonna Glass
The bead below has both Moody Blue and Purplescent glasses spiraled around a clear glass core. Read about them, Black Diamond, the soon to be released Black Magic and the two new colors, Honey Glaze and Royal Purple (pictured below).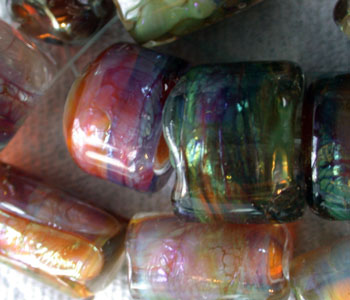 BellaDonna Glass - Frit

BellaDonna Glass is also available in frit in all the colors - Moody Blue, Purplescent, Black Diamond and the two new colors, Honey Glaze and Royal Purple. Soon to be released is Black Magic, a very dense black that reduces to metallic silver. BellaDonna Glass page.
Artisan Advantage Program
The Arrow Springs Artisan Advantage Program gives members:
First Notice of Product Specials

New Product Announcements

Flameworking tips and techniques

Members-Only Offers and Discounts

…and More!
Registration is fast, easy... and FREE!
There are no commitments - no obligations. Fill out the simple form and you'll receive your first Hot Yellow Flyer (HYF) in minutes. The Artisan Advantage Program keeps you informed and saves you money. Sign-up now.
Our Privacy Policy: We never sell or share your information with anyone, at any time, in any way.
Got questions before signing up?
info@ArrowSprings.com
Copy and Paste: info@ArrowSprings.com
Phone: 1(800) 899-0689
All sale items are subject to the following conditions:
For a very limited time only.

Sale limited to stock on hand.

Sale is over when this notice is gone or listed date has expired.


info@ArrowSprings.com
Phone: 1(530) 344-9219
Signature photograph at top of page by Doug Baldwin.